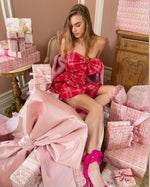 LoveShackFancy: The Ultra Feminine Boho Girly Dream
LoveShackFancy is a whimsical and romantic brand made of feminine designs and delicate fabrics. Founded in 2013 by Rebecca Hessel Cohen, the brand has quickly become a favorite among celebrities and fashion insiders alike. Known for its dreamy aesthetic and bohemian flair, LoveShackFancy has created a unique and distinct style that is loved by many.

The brand is best known for its ethereal dresses, which are detailed with beautiful ruffles, lace, and floral prints. These pieces evoke a sense of nostalgia and romance, making them the perfect option for any date day or night. Naturally attracted by those who let their inner free spirit flow. LoveShackFancy's designs are timeless, with a focus on creating clothing that is both desirable and functional.

In addition to its signature dresses, LoveShackFancy also offers a range of other clothing and accessories, including skirts, tops, sweaters, and swimwear. The brand has also expanded into children's wear, allowing families to embrace their bohemian style together.
Some of our favorite LoveShackFancy pieces:
3. Oaklynn Hammered-Silk Midi Dress
6. Brinda Dress
8. Lindita Ultra Crop Cardigan
9. Adalie Coat
11.Garnita Linen-Blend Maxi Dress
12. Minka Maxi Dress
14. Ceronne lace-trimmed cotton minidress
20. Calvert Maxi Dress

One of the reasons why LoveShackFancy has garnered such a loyal following is its commitment to quality and craftsmanship. Each piece is carefully crafted using the finest materials, ensuring that it not only looks beautiful but also feels luxurious to wear. This attention to detail sets LoveShackFancy apart from other brands and has helped it build a strong reputation for quality and style.


In recent years, LoveShackFancy has also made a name for itself in the world of bridal fashion. The brand's romantic aesthetic has made it a popular choice for modern brides who want to embrace a more relaxed and bohemian vibe on their special day. LoveShackFancy's bridal collection features stunning dresses and separates that are perfect for both intimate and grand celebrations.

Beyond its focus on design and quality, LoveShackFancy also prides itself on its commitment to sustainability and ethical production. The brand works with partners who share its values and is dedicated to reducing its environmental impact. By using eco-friendly materials and responsible manufacturing practices, LoveShackFancy is leading the way in creating a more sustainable and conscious fashion industry.

Overall, LoveShackFancy has carved out a unique niche for itself in the fashion world. The brand offers a breath of fresh air in an industry that can often feel overly fast-paced or lack originality.
LoveShackFancy celebrates the beauty of femininity and individuality, making it a brand that empowers women to embrace their own unique sense of style. Whether you're looking for a special occasion dress or just want to add a touch of whimsy to your everyday wardrobe, LoveShackFancy has something for everyone.
Comment below your favorite LoveShackFancy designs! ♡