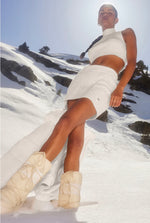 Alo Yoga: Embracing The Mind, Body and Spirit
Alo Yoga is a prominent lifestyle and activewear brand that has taken the fitness and fashion industry by storm. This California-based company has gained a loyal following for its innovative designs, high-quality materials, and commitment to promoting a holistic approach to wellness.
Founded in 2007 by Danny Harris and Marco DeGeorge, Alo Yoga has become a leader in the athleisure market, offering a wide range of yoga-inspired clothing and accessories for both men and women. The brand's mission is to spread mindfulness, movement, and wellness, and they certainly deliver on that promise with their ethically-made, sustainable products.

One of the things that sets Alo Yoga apart from other activewear brands is its emphasis on promoting a healthy and balanced lifestyle. Not only do they offer stylish and comfortable clothing, but they also provide a wealth of resources to support their customers' physical and mental well-being. From yoga classes and meditation sessions to wellness retreats and expert advice on nutrition, Alo Yoga goes the extra mile to empower its community to live their best lives.

The brand's commitment to sustainability does not go unnoticed. Alo Yoga uses environmentally-friendly materials such as recycled polyester and organic cotton in their clothing, and they have implemented eco-friendly practices in their manufacturing processes. This dedication to the planet reflects their desire to create a positive impact on the world and to inspire others to do the same. 


In addition to their sustainable practices, Alo Yoga is also known for their inclusive and diverse approach to marketing and representation. They feature a range of body types, ages, and ethnicities in their campaigns, showcasing the beauty of diversity in the fitness world. This inclusivity has resonated with their audience, as it promotes a sense of belonging and acceptance within the yoga and fitness community.

Here are some of our most recent Alo Yoga drop favs:
1. 7/8 High-Waist Airlift Legging
6. 3" High-Waist Airlift Short
8. Alosoft Courtside Tennis Dress
9. Seamless Ribbed Mellow Onesie 
11. Airbrush High-Rise Legging
12. Luminizing Face Moisturizer
13. Airlift High-Waist Suit Up Legging
14. Mindful Magnesium Bath Soak 
15. Alosoft Fitness Long Sleeve 
From their iconic leggings and bras to their cozy sweaters and stylish outerwear, Alo Yoga has something for everyone. Whether you are a dedicated yogi, a fitness enthusiast, or simply someone who appreciates comfortable and chic athleisure wear, Alo Yoga has become a go-to brand for many.
In conclusion, Alo Yoga represents more than just a clothing brand; it embodies a lifestyle. Their dedication to promoting mindfulness, sustainability, and inclusivity sets them apart in the competitive activewear market. As they continue to grow and expand their offerings, it's clear that Alo Yoga is committed to empowering individuals to embrace their mind, body, and spirit 🙏🩵🫶

Check out their BFCM deals for 30% OFF site wide & up to 70% OFF sale starting now!
*Valid until this Saturday November 11th.