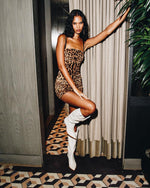 Larroude: A Brand Redefining Luxury Footwear
Ready to elevate your footwear collection but your not sure where to start? We have vetted some of the most iconic, high quality, trustworthy brands for you to choose from but today is all about Larroudé. 
Larroudé is a luxury footwear brand that is redefining the industry with its modern and sophisticated designs. The brand was founded by Marina Larroude, a fashion industry veteran with over 20 years of experience working with some of the most iconic names in the business.

The brand's mission is to create beautiful, high-quality footwear that is both timeless and versatile. Larroude's collections are designed to elevate any outfit, from casual day-to-day looks to elegant evening ensembles. The brand's commitment to quality is evident in the materials and craftsmanship used in each pair of shoes. From the finest Italian leathers to artisanal hand-crafted details, every aspect of Larroude footwear exudes luxury.


One of the brand's standout qualities is its dedication to inclusivity. Larroude offers a wide range of sizes, ensuring that women of all shapes and sizes can find the perfect fit. This focus on diversity and inclusivity sets Larroude apart from many other luxury footwear brands, making it a favorite among fashion-forward consumers who prioritize both style and comfort.
In addition to its commitment to inclusivity, Larroude is also dedicated to sustainability. The brand utilizes eco-friendly materials and production methods whenever possible, striving to minimize its environmental impact. This dedication to sustainability aligns with the brand's overall ethos of creating lasting, timeless pieces that transcend fleeting trends and contribute positively to the fashion industry.

Larroude's unique approach to luxury footwear has garnered the brand a dedicated following of stylish, discerning consumers. The brand's shoes have been spotted on celebrities and influencers, further solidifying its status as a go-to for those who appreciate timeless, well-crafted footwear.
Some of our personal Larroudé recent favs:
1. Kate Boot
3. Dolly Mule 
4. Ari Pump 
5. Patricia Square Toe Chain Embellished Loafers
6. Cindy Boot
7. James Boot
8. Anne Boot 
10. Gio Sandal 
11. Milan Sandals
12. Pixie T Strap Platform Pumps
13. Miso Platform High Heel Boots
14. Kris Pump
15. Larroudé x Jennifer Fisher Boot
17.  Miso Ankle Strap Platform High Heel Sandals
18. Mini Kate Boot
20. Dolly Platform High Heel Booties
23.  Nicole Hi Boot
24. Heartbreaker Crossbody Bag
25. Hailey Boots

Overall, Larroude is a brand that is making waves in the luxury footwear industry. With its focus on timeless design, inclusivity, and sustainability, Larroude is setting a new standard for what it means to create and wear luxury footwear. Whether you're looking for a classic pump, a sleek boot, or a statement sandal, Larroude has a shoe to elevate any wardrobe.
Larroudé's one and only sale of the year starts today. Select styles including their iconic Gloria Sandal are up to 50% off. Check out the styles here.

*Sale valid 11.14-11.30*
Drop a comment with some of your fav Larroudé style! ♡