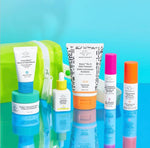 Drunk Elephant: A Brand Leader In The Clean Beauty Movement
If you value a skincare company that uses the cleanest ingredients with proven results, this is for you.
Drunk Elephant is a popular skincare brand that has taken the beauty world by storm. Launched in 2012, the brand has gained a cult following for its clean and effective skincare products. Drunk Elephant has become known for its unique philosophy and commitment to using only the best, non-toxic ingredients in its formulations.

The founder of Drunk Elephant, Tiffany Masterson, initially created the brand out of a desire to find products that worked for her own sensitive and acne-prone skin. She was frustrated with the lack of results from traditional skincare products and set out to create her own line that would deliver on its promises without all the harsh and potentially harmful additives found in many other products on the market.
One of the key aspects of Drunk Elephant's philosophy is the idea of not using what the brand calls the "Suspicious Six" ingredients – essential oils, drying alcohols, silicones, chemical screens, fragrance/dyes, and SLS. This sets Drunk Elephant apart from many other skincare brands and ensures that their products are effective for even the most sensitive skin types.
In addition to avoiding these harmful ingredients, Drunk Elephant also focuses on using a high concentration of active ingredients that are proven to show remarkable results. This means that each product in the line is formulated with a specific purpose and delivers.

One of the brand's best-selling and most lauded products is the T.L.C. Framboos Glycolic Night Serum. This top rated fan favorite product is a potent blend of glycolic, lactic, tartaric, citric, and salicylic acids, as well as raspberry extract and horse chestnut to gently exfoliate and refine the skin. It has been praised by beauty experts and consumers alike for its ability to improve overall skin texture and reduce the appearance of fine lines and wrinkles.

Drunk Elephant has also gained a reputation for its innovative packaging, with many of its products being housed in airless pumps or twist-up containers to maintain the efficacy of the active ingredients. This commitment to quality and effectiveness has further solidified the brand's status as a leader in the clean beauty movement.

Some of our top rated Drunk Elephant favs: 
1. D-Bronzi Anti-Pollution Sunshine Drops
5. T.L.C. Framboos Glycolic Resurfacing Night Serum
6. Virgin Marula Luxury Facial Oil
9. C-Tango Multivitamin Eye Cream
10. Slaai Makeup-Melting Butter Cleanser
11. F-Balm Electrolyte Waterfacial Mask
12. B-Goldi Bright Illuminating Drops with 5% Niacinamide
13. Ceramighty AF Eye Cream with Ceramides
14. Umbra Tinte Physical Daily Defense Sunscreen SPF 30
15. The Littles Kit
17. A-Shaba Complex Retinol Eye Serum with Caffeine + Copper Peptides
20. Kamili Cream Body Cleanser
22. Sugared Koffie Almond Milk Body Scrub
23. Cocomino Marula Cream Conditioner
24. Day Dream Kit
25. Trunk 7.0 Set
26. Wild Night: The Evening Kit
28. Day Dazzle: The Morning Kit
29. Laini Latherless Conditioning Co-Cleanser
30. Call It A Night Glycolic Serum + Moisturizer Duo
Overall, Drunk Elephant has become a go-to brand for consumers who are looking for high-quality, effective skincare products that are free from potentially harmful ingredients. With a focus on clean formulations and visible results, it's no wonder that Drunk Elephant has quickly become a staple in many people's skincare routines.
Comment below your fav Drunk Elephant products! ♡