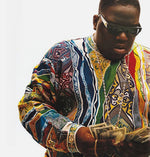 Many designers from the 90's wouldn't have survived had it not been for rap.
To make the list keener to the eye, here are 5 designers that the Hip-Hop industry made relevant.
Coogi
"living better now, Coogi sweater now." Let's be honest, would you have even known Coogi existed if it weren't for the infamous photo of the Notorious B.I.G. wearing what many call the "biggie sweater". When the late rapper was seen sporting Coogi's Australia Vintage Cosby Sweater, everyone wanted a Biggie sweater.
Pelle Pelle
Pelle Pelle was an OG urban fashion company that launched simultaneously with the birth of hip-hop in 1978. Pelle Pelle started as a leather outerwear company and had some of the dopest leather jackets of the 90's. It turned into a full apparel brand that was heavily endorsed by the biggest rap stars of the 90's. As one of the first brands to create the baggy denim look, Pelle Pelle helped to create one of the most popular trends but without rappers such as Big L.
     3.Timberland
This one is dedicated to the city that put Timberland on the map, NYC! Was it even a question whether or not Timbs were necessary in the 90s.
Clearly Timberland has been around for years but before the Hip-Hop industry completely revamped the boot's image, only construction workers or carpenters were seen wearing them. Once Biggie rapped "Timbs for my hooligans in Brooklyn," the question was answered, everybody wanted a pair.
    4. Tommy Hilfiger
Now here's last but certainly not least on my list. Tommy Hilfiger and style of the 90's are almost synonymous. Tommy Hilfiger stated in an old interview reasons why he didn't want the Hip-Hop industry to wear his clothes "Look, it fueled a lot of growth, but it took us away from our roots." Rappers weren't the only ones responsible for Tommy's growth, R&B singers like Aaliyah also helped the designer. Once Aaliyah rocked the Hilfiger sports bra, underwear and denim combo the brand skyrocketed. By the end of the decade, Tommy Hilfiger was worth $1.9 billion. For someone who stepped away from is roots, that seems to be an awful a lot of money, thanks to the era that saved fashion.
Now, this list isn't to discredit the designers by any means however it is a simple thank you to the industry that evolved their work.
Hip-Hop you saved us.