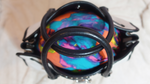 The Need Behind The Shaper
We invest so much mentally and emotionally into our spending when it comes to our clothing. At least I know I do. A good shopping day can leave you feeling like you just ran a 10K race, if you do it the right way. 
This time and energy spent must be respected and you can show this by how you handle your merchandise with your aftercare treatments, post purchase. Things of this nature can include but are not limited to, leather before wear and after care spray, shoe refreshner, shoe wipes, shoe wax, rain repellant spray and the list goes on. 
You see how there are many different ways you can care for your merchandise after purchase. Whether its a Boot or a Bag, there are systems in place to assist you in product grooming to help keep the original integrity of the products quality and shape.
Our Boot and Bag Shapers are the addition to the market that just makes sense. Not only does this innovative product aid in salvaging aged leathers, it also organizes a room and/or closet seamlessly. Running out and need your boots or bag? Simply hang the shapers on a hanger by its leather handles until you get back. You never have to have a messy closet or floor, again.
The need behind The Shaper is the structure. Mentally and physically the Voguish Fill Shapers improves ones quality of life. 
Check them out here! Collections > Voguish Fill.
Use discount code: VALENTINES21 for 50% OFF!
Offer valid: 02.07-02.14
♥