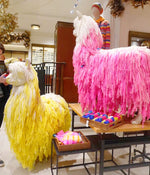 Exploring the Exquisite World of Men's Fashion at Bergdorf Goodman
Known for its unparalleled luxury, Bergdorf Goodman is a legendary department store that has established its place as a fashion mecca in the heart of New York City. While the store is celebrated for its expansive collection of women's fashion, its men's department is no less spectacular. From cutting-edge designer brands to timeless classics, Bergdorf Goodman's men's department offers an exquisite array of clothing that caters to the refined tastes of modern gentlemen.
High-End Designer Brands

One of the highlights of shopping at Bergdorf Goodman's men's department is the exceptional range of high-end designer brands available. Boasting collections from renowned fashion houses such as Gucci, Dolce & Gabbana, Dior, and Saint Laurent, this department ensures that customers are spoiled for choice. Each label offers its unique interpretation of contemporary and classic menswear, reflecting the latest fashion trends and translating them into must-have pieces for the stylish man.

Tailoring and Bespoke Options

Bergdorf Goodman goes beyond offering ready-to-wear collections by providing expert tailoring and bespoke options. For those looking for the perfect fit and a personalized touch, this department is a haven. Skilled tailors work meticulously to ensure that every piece fits impeccably, making adjustments that enhance a garment's visual appeal and comfort. From nipping and tucking to customizing the smallest details, the tailoring service at Bergdorf Goodman elevates the shopping experience to new heights.

Selection of Casualwear

While Bergdorf Goodman epitomizes luxury fashion, it also offers an excellent selection of casualwear for the modern man. From designer sneakers to contemporary sportswear, the department understands the importance of keeping up with trends while maintaining a sense of comfort and practicality. It stocks brands like Off-White, Thom Browne, and Amiri, providing casual attire that is both stylish and functional for everyday life.

Fine Accessories

No ensemble is complete without the perfect accessories, and Bergdorf Goodman's men's department excels in this category too. From tasteful timepieces to refined leather goods, the accessory collection elevates any outfit to new levels of sophistication. Stores within the department offer an array of luxury options, including wallets, belts, ties, cufflinks, and bags, allowing men to express their personal style while adding a touch of refinement to their look.

Personalized Styling Consultations

To enhance the shopping experience and cater to a gentleman's unique tastes and requirements, Bergdorf Goodman offers personalized styling consultations. Expert stylists work closely with clients, guiding them through the vast selection of clothing and helping them curate a wardrobe that aligns with their personal style. From refining their existing fashion choices to introducing them to new brands, this service ensures that every visit to the men's department is a memorable, tailored experience.

Conclusion

Bergdorf Goodman's men's department is a veritable treasure trove of high-end fashion and style. From its extensive range of designer brands to its impeccable tailoring services, the store cultivates an exclusive experience that caters to the discerning tastes of modern gentlemen. Whether searching for timeless classics or the latest trends, Bergdorf Goodman delivers a venture into luxury that leaves every man feeling elevated and impeccably dressed.
Watch NYC Girls Trip PT 3 | Bergdorf Goodman Mens & Street Performers on our YouTube channel now! - https://t.ly/YyfOF